Application notes
Hengshui Lake International Marathon 2019
Guidance of Registration
I. Basic Information
1. Date:Sep.22, 2019(Sunday)
2. Event Category:
Marathon(42.195km)
Half Marathon(21.0975km)
Health Run(about 5km)
3. Scale:20,000
Marathon (6,000)
Half Marathon (4,000)
Health Run(10,000)
4. Start Time:07:30 a.m.
5. Route:(Please see Rules and Regulations for more details)
II. Pre-registration Method and Procedure
1. Method:
1) During designated days, please log in the official website (www.hengshuimalasong.com) to do the pre-registration. Ballot might be used in case register amount is over limit;
2) Runners registered in Chinese Athletics Association must log in CAA official website to register (see more details of Rules of National Marathon Championships Series);
3) Registration of all categories can be conducted ONLY through official website. Successful registration is confirmed only after your win the ballot and make payments;
4) Ballot results will be published on the official website (www.hengshuimalasong.com) and official wechat platform, please be aware timely;
5) Selected names of pacers and medical runners will be announced in future, please be aware.
2. Procedure
1) In designated days, please fill in your information and submit (For Health Run runners, please select the right option under "Health Run" category. Minors under 16 have to register together with at least one guardian or legal representative);
2) Wait for LOC check and ballot results;
3) Ballot winners make payments.
4) Half Marathon and Health Run Participants who are under 18, can only be accepted to participate on condition that their legal guardians or legal representatives have singed on document of Participant's Clarification, against which they can obtain goody bags. The documents can be downloaded through official website and have to be signed by each participant's legal guardians or legal representatives.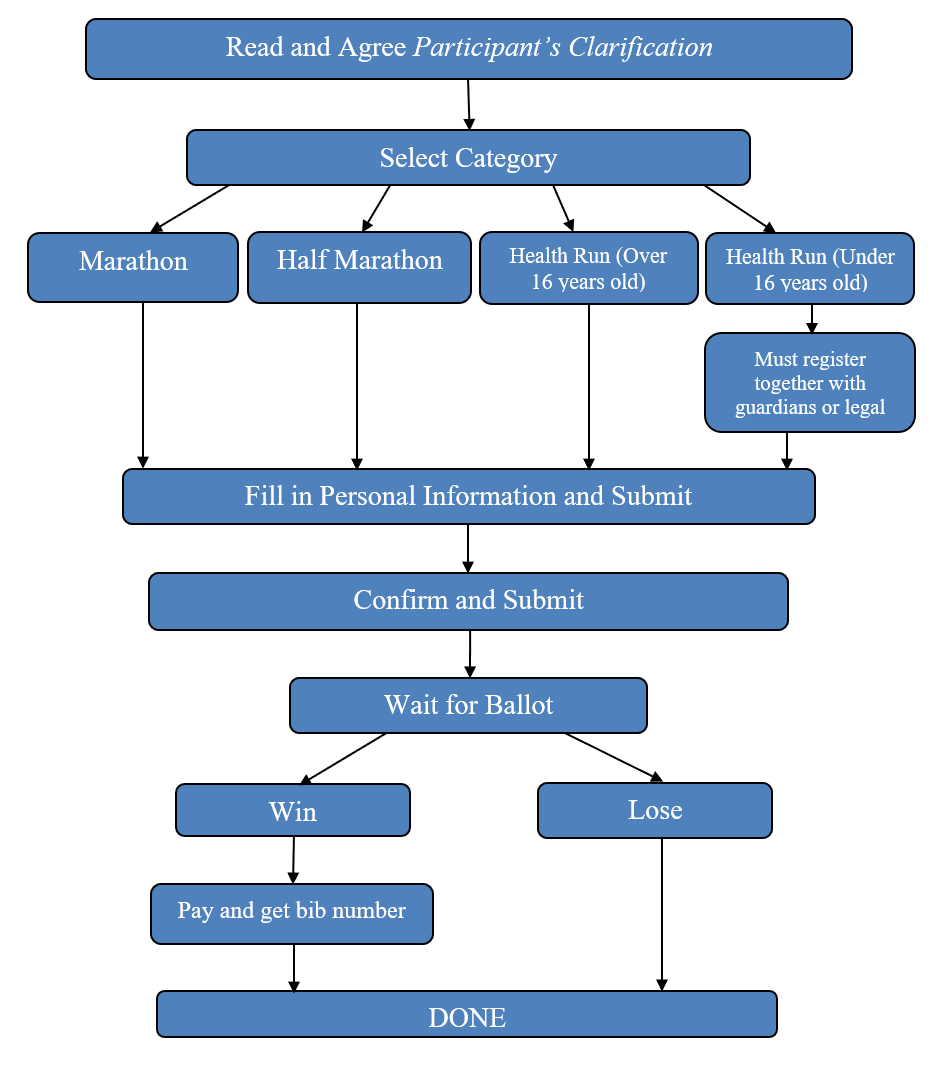 III. Registration Information
1. Date & Time
1) Pre-registration:
10:00 of July 15--17:00 of July 22, 2019
2) Announce Date of Ballot Results :
in the mid-August (be subject to the notice on official website/wechat platform)
3) Payment Dates:
in the mid-August (be subject to the notice on official website/wechat platform, available for 5 days
2. Age Requirement:
1) Marathon: over 20 (born before Dec.31,1999);
2) Half Marathon: over16 (born before Dec.31, 2003);
3) Health Run: no age limit. However, minors under 16 (born before Dec.31, 2003; have to be participated together with at least one guardian or legal representative);
Remarks: the age requirement for elite runners and CAA(Chinese Athletics Association) registered runners will be subject to related rules stipulated by IAAF.
3. Domestic registration (excluding Hongkong, Macau): Please use the second generation of Identity cards. soldiers can use military officer certificate or soldier cards to register.
4. For Elite Athletes
Please refer to CAA Rules on Administration of Elite Athletes' participation in Chinese Marathon events.
V. Fees for Individual Participants
For amateur individual runners, all expenses should be self-covered.
VI. Health Requirement
Marathon race is a competitive sports of great strength, long distance and also high risks. High requirements on health conditions is a need. Participants should be physically healthy and often conduct running practice or training. Appropriate race events should be chosen according to health conditions. Those who fall into following categories are advised NOT to participate:
(1) Congenital heart disease and rheumatic heart disease;
(2) Hypertension and cranial vascular disease;
(3) Myocarditis and other heart diseases;
(4) Serious coronary artery disease and serious arrhythmia;
(5) Diabetics with blood sugar of over top or over low;
(6) sick in a cold two weeks before race day;
(7) Pregnant women;
(8) Patients with other diseases not suitable for sports;
In the race, individual participants should bear responsibilities by themselves due to physical or other reasons of personal injuries or property damages. LOC (Local Organizing Committee) requires every participant must take the corresponding medical examinations (including cardiogram test) in related legal/official medical institutions, and guarantee good health conditions before taking part in the race.
IV. Registration Fees
1. Overseas registration: 300RMB/person, regardless of race category;
a) Domestic registration (including Hongkong, Macau and Chinese Taiwan): 100RMB/person for marathon, 80RMB/person for half marathon, 30 RMB/person for Health Run.
b) Free of charge for the followings: elite runners, runners registered in China Athletics Association, official medical runners, and official pacers;
Note: After successful registration, registration fee will not be refunded, and your race category shall not be changed.
2. Payment
Please log in the website, and pay by wechat or alipay.
V. Insurance
Participants shall purchase personal accident insurance by themselves. LOC covers for each participant and each staff on race date. More detailed information of Specifications of Life Accident Insurance on the official website could be found for reference, please do read carefully.
VI. Contact US
Address: No.651, Weiming Street, Hengshui Sports Bureau
Postcode:053000
Tel:0318-8883194 (9:00-12:00, 14:30-17:30, only available on working days)
Website: www.hengshuimalasong.com
VII. Matters not covered here shall be notified separately.
The Organizing Committee of Hengshui Lake International Marathon 2019 has the final explanation rights on all rules above.